Phew - it's been a number of months since my last article. I have been extremely busy with all manner of different projects, including a new Firefox add-on named REST Easy. I apologize for not writing sooner, but you would be surprised at how easy it is to get neck-deep in code for weeks on end. (Then again, you might not be surprised.)
Back in October, I made a rather expensive investment in something new and shiny: the Nexus 5. I had been planning to buy the phone for quite some time but up until Halloween, it was nothing more than a rumor. Plenty of information had leaked out but the price was still uncertain and some of the specs were carefully kept secret (well, until the last week or so).
My work schedule actually prevented me from buying it the moment it hit the market, so I was disappointed when I got home to discover that it had sold out. (This happened the previous year with the Nexus 4.) However, leave it to Google to put a smile back on my face. Apparently they held some back and released them slowly over the rest of the day. I refreshed the page a few times and suddenly found one in stock. I snapped it up immediately.
The Wait
The purchase was easy enough. Now I had to wait for Google to get the phone to my doorstep. Due to the massive (and I mean massive) amount of orders that poured in, those who ordered their phones later in the day were told that it would be longer before they received their phone.
In the end, it arrived here about two weeks after ordering it. Once again, I wasn't home when it arrived, so I was very eager to get home that day and try out my new toy!
The Beauty
Google spared nothing designing a simple but elegant phone. Take a look: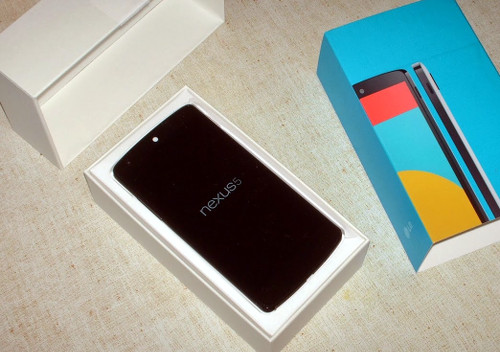 I know a lot of people have complained about the simplicity of the design, but I prefer things that don't distract you from what you're doing. Anyway, I'm no artist, so I won't spend a lot of time discussing aesthetics.
The Hardware
What's not to like? The Nexus 5 features a snappy quad-core ARM processor and 2GB of memory. To this day, I have been unable to get the phone to do anything that severely affected the usability of the phone or the user interface. Everything is always snappy. Transitions are smooth and fluid. Switching between apps is nearly instantaneous.
The camera on the phone is truly a thing of beauty. With the new HDR+ mode intruduced in Android 4.4, I am able to capture a broad range of colors in very different lighting conditions. Indoor shots are clear and crisp. Outdoor shots are often breathtaking. Here is a shot I took of a tree in the snow with the rear-facing camera. The only thing I did to the picture was adjust the lighting a tad and add a vignette: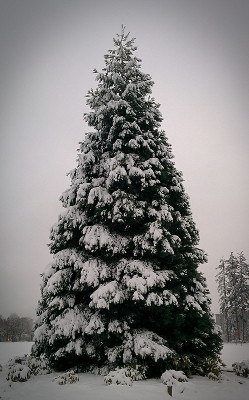 Video quality is equally stunning. The camera is capable of shooting full high-definition video (1920x1080) and it does this task very well.
The Battery
I wish this review didn't need to include a rather glaring shortcoming of the Nexus 5, but alas - it must be said. The battery in the Nexus 5 is far too small for the phone. I have my phone fully charged in the morning before heading off to work and by the time I get home, it's half empty (and that includes keeping it in airplane mode for the seven hours I'm at my desk). To be fair, if you keep it charged whenever you have the opportunity, you will probably be okay. But the moment you start snapping a lot of pictures, shooting a lot of video, or playing games - you will quickly find yourself disappointed. The worst part? The battery is not removable, so there is no way to upgrade it.
However, there is a solution for this problem. In fact, this solution will solve a lot of mobile power problems.
I grabbed an external battery pack from Amazon for $59 CAD. It's an Anker Astro 3, and it's a 12,000 mAh battery. Yes, folks, this battery will charge anything you can throw at it. You can use it for charging your Nexus 5 at high-speed (faster than you're going to be able to charge through a standard USB port on a computer) and for charging other USB gadgets, like cameras or e-readers.
Storage
This is the other downside of the Nexus 5 - no removable storage. But for me, this isn't actually a downside. As an Android app developer, I have felt the pain of writing apps that work around "dumb" filesystems (like FAT32) that are typically used on removable storage. I bought the 32GB model, so I will have enough space for photos, quite a few music albums, and a couple of HD videos. I also have an unlimited data plan, so transfering data here and there is not a problem.
Conclusion
Considering the price, I got a really amazing phone. I continue to be impressed with the camera. Google has already issued updates for a couple of issues with the camera so things can only get better from here. I would definitely recommend the phone to anyone who could afford it.
---